Image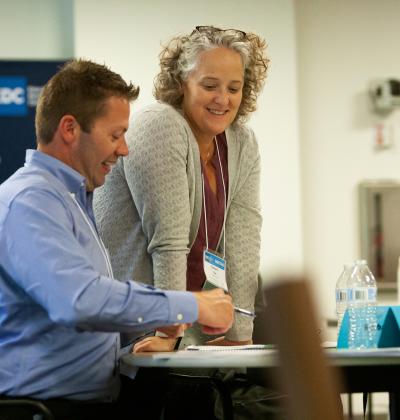 Join a collaborative team of mission-driven professionals.
Education Development Center (EDC) is hiring three full-time positions for EDC Solutions, a portfolio of fee-for-service business units striving to scale innovative solutions in education, public health, and workforce development.
As a portfolio, EDC Solutions serves to identify, cultivate, and launch promising commercial business opportunities in a variety of content areas within EDC. Our team provides strategic and operational support across a growing number of business units, working to develop and deliver just-in-time training, tailored consultation, and award-winning products to our mission-driven clients. All fees associated with EDC Solutions services are re-invested back into EDC and its programs.
Click on the positions below to apply for one of our three open positions today.
About EDC Solutions
EDC has collaborated with public and private partners to advance large-scale solutions for education and health challenges across the globe. EDC Solutions brings this vast expertise directly to individuals and organizations striving to address urgent challenges in public health, education, and workforce development. Through EDC Solutions, clients like healthcare systems, school districts, and local and state agencies have the same access to EDC's innovative, high-quality service offerings as multinational agencies and large foundations.
Current Open Positions
Business Operations Manager

The Business Operations Manager will lead, oversee, and strategically align all aspects of service delivery support in collaboration with business unit leaders. Service delivery support will include all aspects of day-to-day operations including, administrative support, technology and systems support, logistics management, project management, vendor relationship management, human resources management, and information and knowledge management. 

Finance Manager

TBD.

Learn More & Apply

Finance Coordinator

The Finance Coordinator will be a part of the EDC Solutions team, and will support a range of fee-for-service opportunities at EDC. The successful candidate for this role will be organized, detail-oriented, customer-focused, and will demonstrate an aptitude for data, accounting, and math logic, specifically as they relate to accounts payable, accounts receivable and reconciliations.
Benefits of Working for EDC
When you join EDC, you become part of a dynamic global organization filled with exceptional colleagues doing work that matters. With about 1,300 staff members worldwide, EDC welcomes employees at many stages in their careers, from those just starting out to experienced professionals.
We offer a collegial environment that attracts employees seeking excellence in all they do. Our diverse staff includes teachers, health professionals, international development experts, community organizers, mathematicians, scientists, education researchers, technology specialists, and a range of business, technical, and creative professionals.
What we offer:
A mission-driven work environment
Health, dental, and vision insurance and employee assistance program
13 paid holidays
Generous vacation benefits 
Dependent Care Flexible Spending Accounts
Tuition and transportation reimbursement
Retirement plan including robust employer contributions
Paid sick time and up to 16 hours of personal time annually
Parental leave