Image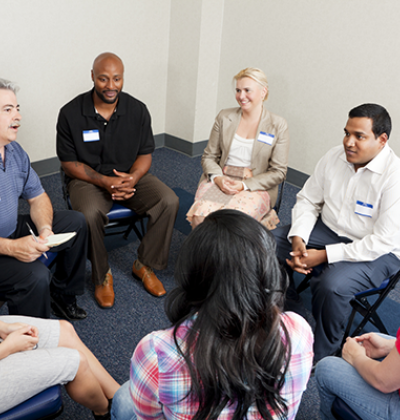 Discover the key elements of focus group design and delivery through case examples that highlight the many ways focus groups can be used to support prevention practice.
This interactive, self-paced course engages practitioners in the process of assessing the substance abuse needs of their communities. Participants will explore a step-wise process for creating focus groups, identifying and preparing staff to lead them, recruiting participants, and organizing and analyzing the data and the qualitative data these groups produce. It is appropriate for practitioners working at both the state and local levels.
Audience

Prevention practitioners working at the state level or in communities

Certification

his course has been endorsed by the International Certification and Reciprocity Consortium (IC&RC). Individuals who receive a passing grade on the course self-assessment (80% correct) will receive a certificate for 2 hours of participation.

This training has also been approved by the New York State Office of Alcoholism and Substance Abuse Services (OASAS) to satisfy CASAC renewal requirements and CPP/CPS initial/renewal credentialing requirements. 

Education Development Center is a NADAAC-approved vendor.

Learning Objectives

List the defining features of a focus group
Recognize opportunities for using focus groups across SAMHSA's Strategic Prevention Framework
Develop a research question and related discussion guide for your focus groups
Select appropriate staff to lead and capture data from your focus groups
Identify key factors to consider when composing and scheduling focus groups
Design an effective process for recruiting focus group participants
Identify strategies for understanding and using focus group data

Course Modules

Module 1: Introduction to Focus Groups explores what a focus group is, as well as how to find a focus group and key elements and the benefits of focus groups  as well as how it can be used across SAMHSA's Strategic Prevention Framework
Module 2: Developing a Protocol walks participants through the process of developing a protocol, creating a discussion guide as well as what types of questions are appropriate.
Module 3: Identifying Staff leads participants through the qualities of an effective facilitator as well as how to choose one, as well as note-taker/recorder, recording the session and taking notes.
Module 4: Composing and Scheduling Groups highlights the importance of groups: how many groups, the complexity, size and diversity as well as removing barriers and establishing incentives.
Module 5: Recruiting Participants provides an overview of issues to consider such as screening criteria, recruitment strategies, inviting participants, confirming in writing as well as following up with a phone call.
Module 6: Conducting a Focus Group provides an overview of issues to consider including how to get ready, open the session, asking key questions, facing challenges, veering off course, and closing remarks.
Module 7: Dealing with the Data highlights the importance of analyzing your data, confirming your findings, writing everything down and taking action.

Each module contains practical information and interactive exercises designed to help you apply course content to your work. This course also contains numerous resources – including tip sheets, tools, and links to external sites – to supplement the online course experience.
Access Course
To access this and all courses, please create an account and log in on our learning platform.