Image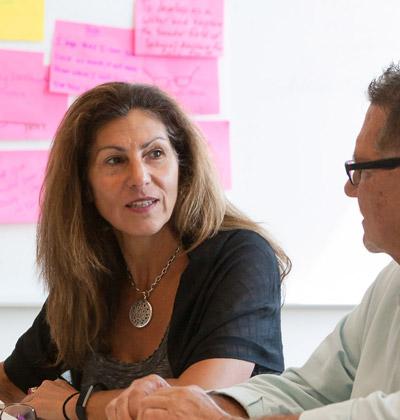 EDC Solutions means access to innovative solutions for complex challenges.
Education Development Center (EDC) has sixty years of experience collaborating with public and private partners to advance quality education and health equity around the world. On projects both large and small, we have connected with people and organizations who are passionate about driving progress in their communities. Together, we have strengthened systems, built professional capacity, and guided the implementation and evaluation of comprehensive, evidence-based approaches. 
More often than not, when these projects reached the end of their grants, clients asked, "How can we continue to work together?"
EDC Solutions is our answer. Through the delivery of just-in-time training, tailored consultation, and award-winning products, we provide health and education solutions that are feasible and effective.
EDC Solutions Mission
Helping individuals, organizations, and systems deliver better quality services to the communities they care about has always been a core aspect of the EDC mission statement.
EDC Solutions expands our impact by making it possible for organizations of all sizes and individual professionals around the world to access our services.
Who We Are

Education Development Center (EDC) is a global nonprofit that advances lasting solutions to improve education, promote health, and expand economic opportunity. Since 1958, we have been a leader in designing, implementing, and evaluating powerful and innovative programs in more than eighty countries around the world.

EDC Solutions is an initiative of EDC dedicated to providing direct, cost-effective, and sustainable services. Our expert teams are committed to bringing EDC's decades of experience to organizations and individuals working at the forefront of health and education. 

EDC Solutions comprises three teams:

Education & Wellbeing
Zero Suicide Institute
Prevention Solutions

What We Do

At EDC Solutions, we apply the large-scale, lasting solutions developed by EDC to build the capacity of individual professionals and organizations of all sizes. Drawing on best practices in implementation science, adult learning, and systems change, we provide a wide array of just-in-time training, quality consultation, and award-winning products.
We work closely with clients to identify the right set of services to address their unique needs, experiences, and capacities. 

Our customizable trainings are available in-person, online, and as self-paced courses. 
Our consultation packages include individual, tailored support as well as collaborative opportunities, such as communities of practice. 
Our products range in scope from user-friendly factsheets to comprehensive toolkits.

Our staff is ready to create a solution that is right for you. 

Our Values

At EDC, we envision a world where all people are empowered to lead healthy, productive lives.

We believe in collaborating with both public and private partners to provide solutions that are strategic and cost-effective, while also being responsive to the cultures, realities, and needs of our clients. Our work centers the voices of people with lived experience and seeks to address the systemic constraints that prevent access to health and education.

Our Clients

Our clients are local, state, and federal systems; tribes; schools; health care systems, community organizations, and coalitions, and individual service providers working to address the pressing needs of the populations they serve. Recent clients include:

Massachusetts Department of Elementary and Secondary Education
Universal Health Services
Cardinal Health, Inc.
U.S. Drug Enforcement Agency

 

Connecticut State Education Resource Center
New England Technology Transfer Center's Cannabis Workgroup
Expert Guidance in Leading Practice Areas
In recent years, a growing interest in improving and expanding mental health supports has put a spotlight on three EDC areas of expertise that are closely linked—suicide prevention in healthcare, substance misuse prevention, and social-emotional learning. As we move through and beyond the COVID-19 pandemic, addressing these issues in a coordinated and equitable way will become an even greater priority. 
Our three EDC Solutions teams have experience working with changemakers to identify and implement strategic interventions in their respective practice areas. They have ready access to the broader range of expertise available across EDC, from early childhood development to eldercare supports and HIV and sexual and reproductive health to violence and trauma prevention.
As new priorities emerge, we look forward to expanding our EDC Solutions offerings.