Image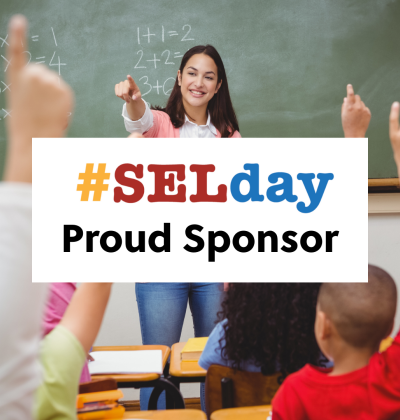 EDC is a Proud Sponsor of #SELday
Join the Movement to Support Social-Emotional Learning
EDC Solutions' Education & Wellbeing Team is proud to sponsor #SELday on March 11th, 2022. For three years, #SELday has promoted social-emotional learning by hosting events, promoting organizations, and highlighting the wonderful, impactful work of districts and educators across the U.S.
We're celebrating SEL Day 2022 with free resources, accessible below. Join our email list to hear about future SEL webinars and tools.
SEL Day Resources
In support of SEL Day, the Education & Wellbeing team is providing free resources, including:
Webinar | Register for a live, interactive panel discussion on 3/29
Article | Read articles by EDC experts on SEL topics from workforce readiness to remote learning
Tools | Download a brand new tool on SEL Adaptive Practices, plus three other free tools
Webinar | Adult Wellness: Insights and Strategies for Educators and Leaders

Join a panel of education and wellbeing experts in a conversation around why educators and leaders are enduring higher amounts of stress and trauma, what types of strategies exist for individual wellness, and how the promotion of these strategies in practice and policy can benefit that larger school community, including families and students.

The event will be held for free on Zoom on March 29th at 4-5PM ET. The panel will be led by Dr. Shai Fuxman.

Article | Dr. Shai Fuxman on SEL and Workforce Readiness, along with two other topics

New Piece

"Preparing Kids for the Future with SEL"

Recent Articles

Today, K-12 Drive published a piece by EDC's Katari Coleman:

"How the pandemic made social-emotional learning more accessible"

In October, the Hill published this piece by Dr. Fuxman:

"Our Children are Facing a Mental Health Crisis — We Can and Must Address it Today"

Tools | SEL Adaptive Practices: Preview of Guiding & Reflection Questions

New Resource

This tool, part of our larger SEL Adaptive Practice training, provides guiding questions and strategies for integrating SEL into lesson plans and classroom routines across all content areas and grade levels.

SEL Adaptive Practices: Preview of Guiding & Reflection Questions

Prior Resources

Identification, Placement, and Progress Monitoring Process: Guiding Questions on SEL and Mental Health Supports

Self-Assessment for School Teams Worksheet: Multi-Tiered System of Supports for Social and Emotional Learning and Mental Health

Social and Emotional Learning and Mental Health: Tiered Supports Inventory
SEL Day Values
The theme this year was Finding Common Ground, Pursuing Common Good.
On Monday, March 7th, we participated in a #SELday Twitter chat discussing the theme of common ground and common good. 
This was one of the questions: "How does SEL support students to build decision-making skills that advance the #CommonGood?"
Our answer was, "SEL teaches perspective-taking, social awareness, listening, emotional management, and relationship-building skills that help students become more thoughtful decision-makers and tap into their leadership qualities. All of these prepare students to advance the #CommonGood."
Learn more about our values around SEL by reading the rest of the Twitter chat.