Image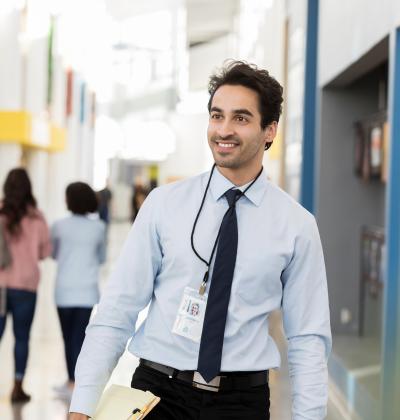 Educator Wellness training provides adults—including teachers, support staff, and leaders—strategies for prioritizing and supporting wellness individually and with peers. 
Many educators across the nation are dealing with high levels of anxiety, stress, fear, and worry, and leaders are increasingly navigating issues of low teacher retention and recruitment. This workshop training series is intended to provide strategies and knowledge around the ways in which individuals can prioritize wellness, and how district and school systems can better support these efforts.
Learn About Educator Wellness Training
EDC Philosophy

EDC Solutions for Education & Wellbeing supports education systems in providing all students with high-quality academic instruction that integrates and promotes social-emotional learning and mental health. 

Participant Audience

The audience for this service is classroom educators and leaders in charge of instruction or curriculum design. The training series includes technical assistance consultation between sessions.

Skills Development

Prioritizing Individual Wellness

Participants will learn how to identify strategies and knowledge around the individual and ecological causes of negative emotions, as well as what can be controlled and improved.

Supporting Staff Through Systems and Structures

Participants will learn about how the environment, including the systems and structures in which they're working or leading, can consistently support adult wellness.

Training Outcomes

Participants will:

Develop a holistic understanding of social-emotional learning 
Understand the benefits of wellbeing
Examine strategies around adult wellbeing
Consider ways to align these practices with policy and practice
Reflect on their current successes and challenges with wellbeing
Plan and take action to further apply wellness strategies

Session Topics

This service is comprised of technical assistance and four, 90-minute in-person or online workshops on the following topics for school-level teams of practitioners. Sessions will provide tools for reflection, self-assessment, and action planning. 

Topics:

An Ecological Approach to Supporting Adult Wellness in Schools
Leveraging Relationships to Support Adult Wellness
Establishing Systems and Structures to Support Adult Wellness
Peer Sharing & Applying Lessons Learned

Teams will work with their technical assistance specialist between sessions to embed these learnings into their daily routines, including administrative meetings, interactions with adults and families, and their students.
Access Educator Wellness Training
Ready to learn how Educator Wellness training can transform your school or district? Interested in learning more about pricing structures and available funding? Start the conversation today.