Image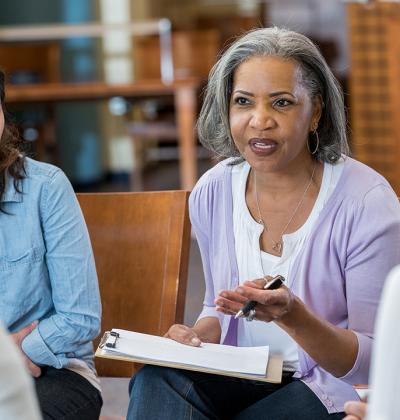 We guide organizations outside of healthcare in adapting and embedding best practices in suicide prevention. 
We understand that suicide is multi-dimensional and complex. There is no single cause for suicide and therefore no single solution. Preventing suicide requires comprehensive strategies that consider local context and resources. Early intervention is critical to saving lives and that includes prevention efforts in a variety of settings, including schools, places of employment, and community spaces in addition to the health and behavioral health settings which are the home of Zero Suicide. 
Promoting Healthy Communities and Workplaces
Talking openly about mental health, wellness, and hope leads to conversations that highlight how recovery and resilience are possible and that when needed, help is available. Suicide prevention efforts at the system level must meaningfully incorporate resilience and protective factors, promote wellness and hope, reduce risk factors, link individuals in crisis, and address environmental and social conditions that impact distress and reduce suicide behaviors.
Continuous quality improvement is critical to determine whether these approaches are working. Our experts at EDC understand how to train your team to develop a suicide prevention strategy that identifies those at risk, intervenes, and promotes healthy communities and workplaces.
Suicide Prevention Happens Everywhere
Healthcare is one critical setting to identify and care for people at risk. Zero Suicide Institute has helped hundreds of health and behavioral health care organizations, federal agencies, tribal governments, foster care organizations, juvenile justice, corrections settings and community leaders achieve and sustain ambitious but achievable comprehensive approaches to suicide care that work.
These groups can and should work with their local community groups to ensure that the entire spectrum of suicide prevention—from mental health promotion to suicide prevention, treatment, and recovery—are thoughtfully connected.
Beyond health and behavioral healthcare, EDC's experts—including those within Education and Wellbeing, substance abuse presentation through Prevention Solutions, National Action Alliance for Suicide Prevention, the Suicide Prevention Resource Center, as well as many others—have helped communities thrive.
If you're a school, college or university, juvenile justice or corrections, foster care, social services, homeless services, states, payers, or other system interested in achieving effective and sustained results, our experts at EDC can help you achieve your suicide prevention and mental wellness goals.