Image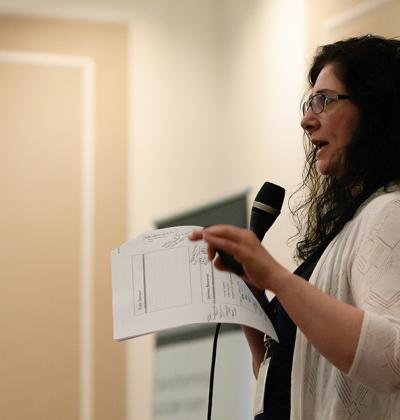 We've authorized more than 300 professionals as AMSR trainers.
AMSR trainers are leaders in compassionate care for people at risk for suicide. After completing our AMSR Trainings of Trainers (ToTs), AMSR trainers teach other healthcare professionals how to apply the AMSR risk formulation. AMSR trainers are authorized to lead AMSR training for colleagues within their own organization. We also offer limited opportunities for AMSR trainers to be compensated for training outside of their organizations.
"The benefits of being an AMSR Trainer are vast:  you become a better clinician, you gain priceless knowledge and skills in suicide risk assessment and prevention, you are exposed to the latest research, you help others gain confidence in their ability to make a difference, and you bring hope to clinicians who are often discouraged.

Most importantly, you become a part of something bigger than yourself—you become connected to this strong network of individuals just as committed to suicide prevention as you are."
AMSR Trainer Q&A
What are the benefits of being an AMSR trainer?

AMSR trainers go on to administer valuable training within their organizations and are eligible to earn fees for leading outside trainings.

Return to your organization ready to train staff in research-informed suicide care practices
Eligible to earn training fees for leading AMSR trainings outside your organization
6.5 hours of curriculum-specific continuing education credits

Can I become an AMSR trainer?

If you meet the eligibility requirements, you can apply to attend a ToT with us:

Master's degree or higher
Five or more years as a practicing clinician
Currently in practice, with state-level standing
Demonstrated facilitation skills

How do I become an AMSR Trainer?

AMSR ToTs are 2.5 days of training. Day one is an observation of an AMSR Master Trainer leading an AMSR Training. Days two and three focus on helping you learn, develop, and practice your skills as a trainer.

Which AMSR ToT should I choose?

Each AMSR ToT focuses on one of three care settings: outpatient, inpatient, and substance use disorder treatment. Our outpatient and inpatient ToTs include training in a companion curriculum developed to address the needs of direct care staff. AMSR Trainers who would like to be trained in more than one setting are welcome to register for multiple ToTs.

How do I find a ToT opportunity?

Online AMSR Trainings of Trainers are open enrollment opportunities for all qualified professionals. The current fee to attend online ToT is $1825 and includes both the AMSR Training and the AMSR ToT, plus manuals and shipping. 

In-person AMSR Trainings of Trainers are often scheduled by a state or specific organization for a particular audience. In special instances, spots are open for external participants. Attendees arrange travel, lodging, and meals. The current fee to attend an in-person ToT depends on the sponsor and curriculum.

If you can't find an upcoming ToT in the Events section, there are a few things you can do.

To be the first to know about upcoming training opportunities, you can sign up for our email list.

You can help bring an AMSR ToT training to your area by learning about how to sponsor an event.

Finally, you can always reach out to us for more information.

What support is provided?

As an AMSR trainer, you will receive comprehensive teaching guides, training slides, and participant workbooks. We have a private website for our AMSR trainers, where we provide access to updated materials and the latest research. You also have access to nationwide expertise through our network of AMSR trainers.

How long am I authorized to be an AMSR trainer?

For one year. To remain in good standing after the first year, you must have:

Led at least one AMSR training that year
Reviewed the evaluation summaries from your trainings
Provided us with an annual CV/resume
Accessed the AMSR trainer website

We suggest you do lead your own AMSR training within the first three months of becoming an authorized AMSR trainer, so you can share your newly-developed skills and knowledge right away. You will need to plan for registration and obtaining manuals for the participants that will be in your AMSR training.

If you aren't able to lead an AMSR training in the allotted time or your AMSR authorization has lapsed, we offer AMSR trainer recertification courses.

How do I set up a training after becoming authorized?

You will complete the AMSR proposal form, which will start the process to schedule the training, the registration process, and the details for shipment of the AMSR manuals. When you lead an AMSR training, each participant must be registered and pay the participant fee, which includes their AMSR manual.