Image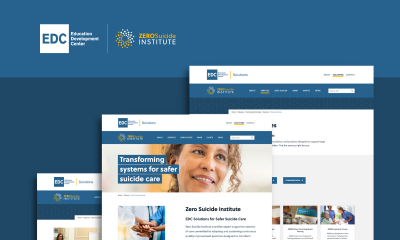 Zero Suicide Institute Gets a New Home with EDC Solutions, an Enterprise Providing Services Accessible to Clients of all Size
New home, same address—zerosuicideinstitute.com redirects to solutions.edc.org, an expanded site holding even more services and events to support your safer suicide care efforts.
Zero Suicide Institute is part of Education Development Center (EDC), a global nonprofit that has collaborated with public and private partners to advance solutions for education and health challenges across the globe for over sixty years. In 2016, Zero Suicide Insitute became one of the first EDC teams to provide direct-access services to clients. Two more teams followed, one serving the substance misuse and gambling prevention workforce and another providing support for quality education inclusive of social-emotional learning. Together, we are EDC Solutions. 
Through EDC Solutions, independent organizations and individual professionals have the same access to EDC services as multinational agencies and large foundations. As an EDC Solutions client, you choose the training, consultation, and products best suited to your mission, delivered on a timeline you can sustain. For clients that work at the intersection of health and education challenges, working with Zero Suicide Institute means access to experts in over a dozen related practice areas. 
Learn more about EDC Solutions by following the links below.
EDC Solutions announcement on edc.org