Image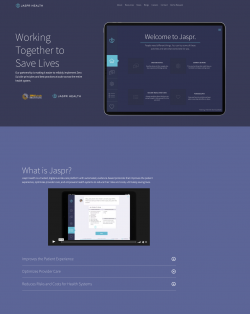 "Data are clear that when you implement a Zero Suicide framework, you improve outcomes. Jaspr's evidence-based digital technology helps health systems achieve safer care by overcoming ongoing workforce shortages and other barriers. Leveraging Jaspr from the moment a patient is detected to be suicidal can significantly and immediately improve care."
Jaspr Health Digital Platform
Jaspr Health's digital platform speeds and standardizes evidence-based care for people in suicide crisis.
Jaspr Health is a digital suicide-care platform with automated, evidence-based protocols that improves the patient experience, optimizes provider care, and empowers health systems to reduce their risks and costs. In a randomized clinical trial, hospitals that used the Jaspr Health Digital Platform significantly outperformed care-as-usual. 
Jaspr Health
Jaspr Health was developed by Drs. Kelly Koerner and Linda Dimeff and co-designed with suicide prevention experts, people with lived experience, and leading health systems—among them, Zero Suicide Institute staff and faculty.
Learn about our Jaspr Health partnership
Safer Care Alignment
The Jaspr platform aligns with Zero Suicide safer suicide care practices and can be a safe, effective, supportive part of care. Jaspr is designed to work in crisis settings, giving patients immediate access to on-demand guided assessments, powerful videos of survivors with lived experiences, and a library of coping skills to instill hope when it's needed most. The companion mobile app provides ongoing evidence-base support to help during the high-risk transition that follows hospital discharge to least-restrictive alternative settings or home.  
Jaspr Health delivers reliable access to required, standardized evidence-based protocols to help stabilize patients—such as suicide risk assessments, crisis stability planning, and lethal means safety—so they can build trust and extend support through care transitions without any additional burden on staff. Providers have access to consistent, easy-to-use clinical decision support and streamlined workflows to help quickly determine optimal, evidence-based care. 
Follow the link below to learn more about the benefits of the platform. Scroll to the bottom of the page to schedule a free Jaspr demonstration.