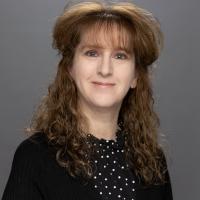 Senior Vice President, Crisis Services, Centerstone
LCSW
Becky Stoll is the Senior Vice President of Crisis Services at Centerstone, a nonprofit health system specializing in mental health and substance use disorder treatments. Stoll is responsible for leading both administrative and clinical operations for Centerstone's multi-state footprint, including a crisis call center, a 988 crisis chat/text national backup center, mobile crisis response teams, and crisis stabilization units.
Stoll has more than three decades of experience in crisis services, disaster mental health, and suicide prevention and has worked at Centerstone since 1999, previously holding the positions of vice president of crisis and disaster management, director of crisis services, and crisis call center program manager. Prior to joining Centerstone, she served as the Director of Admissions, Utilization Management, and Social Work at First Hospital Corporation in Nashville, Tennessee.
Stoll is on the International Standards Advisory Committee for the Commission on Accreditation of Rehabilitation Facilities (CARF), a Chair Emeritus of the Board of Directors for the International Critical Incident Stress Foundation, and is also on the Steering Committee for the 988 Suicide and Crisis Lifeline. Stoll's work has been featured in Time Magazine, USA Today, The Washington Post, and other major national publications.
Stoll is a Licensed Clinical Social Worker and holds a master's degree in social work from the University of Tennessee, and a bachelor's degree in psychology from Tennessee State University.