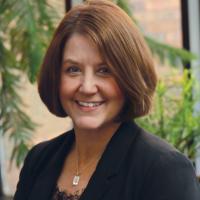 Executive Director of Behavioral Health, Hospital Sister Health System & Prevea Health
PhD, FACHE
Toni is responsible for the overall operations of Behavioral Health Services in the Western Wisconsin for Hospital Sisters Health System and Prevea Health.  Services include a full array of both inpatient and outpatient mental health and substance use disorders treatment.  Toni has a PhD in Psychology with over 35 years of behavioral health experience. 
She is passionate about suicide prevention and has served on the National Zero Suicide Institute as a faculty member since the summer of 2016.  Additionally, Toni serves as faculty for Wisconsin's Zero Suicide initiative and has worked with many organizations to implement the Zero Suicide framework into their health care delivery systems.  
Addressing the opioid epidemic has been a focus over the past few years.   Toni has led the development and deployment of a robust Medication Assisted Treatment program, in Western Wisconsin, which is helping hundreds of people in their recovery journey.
Toni is involved in many local initiatives, and is a member of many committees, that are focused on improving the health of people within the region.