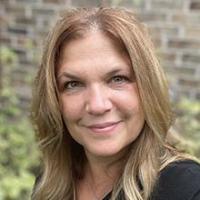 Seinior Project Associate, Zero Suicide Institute
Amy Molloy, senior project associate, is a behavioral health expert with 14 years of leadership experience in suicide prevention, mental health promotion, veterans' services, and education. She is dedicated to working collaboratively within systems of care to strengthen policies and practices to ensure safer suicide care for all.
As a member of EDC's Zero Suicide Institute team, Molloy advances the use of innovative training practices and continuous quality improvement to sustain systemwide suicide prevention and care and to save lives.
Previously, Molloy served on the New York State (NYS) Suicide Prevention Council and NYS 988 Implementation Planning Coalition. In 2014, she received the Excellence in Suicide Prevention Award from the NYS Office of Mental Health Suicide Prevention Center of New York.
Molloy contributed to Young People and Mental Health in a Changing World and published a series of briefs on school climate and safety. Molloy holds an MSW, with a Certificate in Non-profit Management and Leadership, from the State University of New York at Albany. She received an MEd in Counselor Education from Texas Southern University.