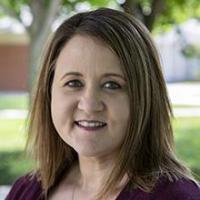 Business Operations Manager, EDC Solutions
Laura Newhouse, EDC business operations manager, brings extensive expertise in program administration, adult learning, online learning, business analytics, marketing, and strategic planning. Drawing on over 16 years of experience as a higher education leader, she specializes in advancing program growth and establishing systems that enhance organizational efficiency and effectiveness.
As the business operations manager for EDC Solutions, Newhouse leads, oversees, and strategically aligns all aspects of EDC Solutions' service delivery support in collaboration with business and content leadership.
Prior to joining EDC, Newhouse held a range of leadership roles for Buena Vista University. As the director of enrollment and student success, she oversaw a remote staff in developing, implementing, and evaluating procedures and practices to increase student satisfaction and enrollment. Previously, she served as both the director of academics and the director of online programs. As an adjunct instructor, she delivered online courses that focused on leadership communication and conflict management.

Newhouse holds an MS in Adult Learning & Organizational Performance from Drake University and a BS in Marketing from Northwest Missouri State University.