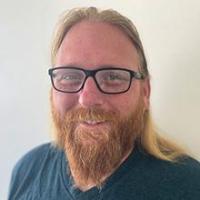 EDC Technology and Media Coordinator
Robby Ruggles, EDC technology and media coordinator, is a highly skilled and versatile marketing, multi-media, and IT professional. Drawing on management experience attained in multiple fields, he specializes in advancing strategic marketing and communications goals through innovative methods. He brings extensive expertise in digital marketing, print marketing, and website management—including content management systems, systems management, IT solutions, and client support.
As the technology and media coordinator for EDC Solutions, Ruggles works closely with an EDC team that provides just-in-time training, tailored consultation, and award-winning products to improve health and education.
Before joining EDC, Ruggles was the IT and communications manager for The Health Education and Resources Institute (THEARI), supporting THEARI's Colorado Opioid Response Program and the organization's Nurse Refresher courses. He also led their IT efforts to initiate major changes to respond to the pandemic, including swiftly transitioning the team to being 100% remote.
Ruggles proudly served as a Master-At-Arms (law enforcement) First Class Petty Officer in the U.S. Navy for 13 years.
Ruggles holds an AA in Web Publishing from the American Military University.