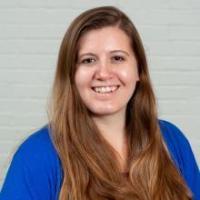 Communications & Engagement Manager, EDC Solutions
MA, MBA
Teresa Sherman manages communications and engagement for EDC Solutions, the direct service enterprise of EDC. Sherman specializes in nonprofit project management, strategic planning, product engagement, user-centered design, marketing, and communications.
Sherman provides strategy and support for the development, delivery, and dissemination of training, consultation, and products across three fee-for-service business units: Zero Suicide Institute, Prevention Solutions, and Education & Wellbeing. Her role includes brand management for EDC Solutions and its sub-brands, as well as management of the EDC Solutions website and affiliated sites. 
Previously, Sherman provided strategic communications and project management support to Zero Suicide Institute, overseeing a successful website redesign and the growth of multiple social media platforms. Prior to joining EDC, Sherman managed teacher development at World Teach and taught English to adults and youths through the United States Fulbright Program and the Peace Corps.
Sherman holds an MBA in Social Impact and Nonprofit Management and an MA in Sustainable International Development from the Heller School at Brandeis University. She earned a dual bachelor's degree in journalism and history from Illinois Wesleyan University.